Gas Laws Apparatus
Η Διάταξη Νόμοι Αερίων χρησιμοποιείται για τη μελέτη της καταστατικής εξίσωσης των αερίων.
The Gas Laws Apparatus is used to study the statutory equation of gases.
With this experimental device we have the ability to measure in real time and at the same time, the pressure, temperature and volume change of a quantity of gas.
We also have the ability to change the volume and temperature of the gas independently of each other while recording the changes of all three quantities.
With this apparatus we can verify the laws of Boyle, Gay-Lussac and Charles.
There are 2 available versions of Gas Laws Apparatus:
Gas Laws Apparatus without sensors
Gas Laws Apparatus without sensors includes:
Glass bottle 100 ml with stopper
Beaker 500ml
Electric Hob (ηλεκτρικό μάτι)
Retort Stand
Glass Thermometer (-10 .. +110 °C)
Silicon tubing
Gas volume change device (syringe) with simultaneous measurement of the change in the output of a linear potentiometer
The experimental setup is shown schematically below: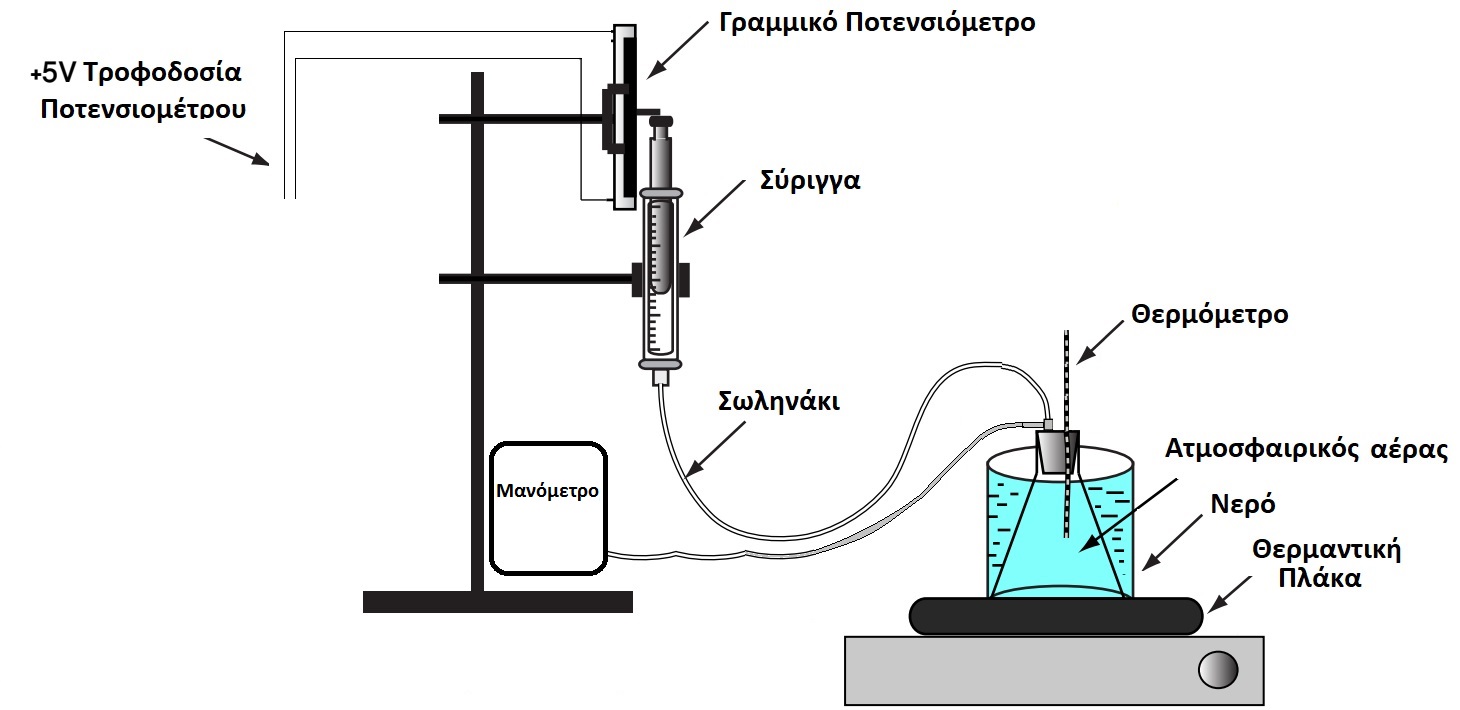 Gas Laws Apparatus with sensors
With the Gas Laws Sensor Layout you can record measurements in software and create graphs of quantities in real time.
Gas Laws Apparatus with sensors includes:
Glass bottle 100 ml with stopper
Beaker 500ml
Electric Hob (ηλεκτρικό μάτι)
Retort Stand
Glass Thermometer (-10 .. +110 °C)
Silicon tubing
Gas volume change device (syringe) with simultaneous measurement of the change in the output of a linear potentiometer
Gas Sensor
Temperature Sensor
Gas volume change device (syringe) with simultaneous measurement of the change in the output of a linear potentiometer via Voltage Sensor
The experimental setup is shown schematically below: