AI EDUCATIONAL BLOCKS
AI EDUCATIONAL BLOCKS
Make your projects come alive with Gigo building blocks and the new AI CONTROL BOX!
With the new Web: AI cloud intelligence platform, you can easily assemble fun and exciting
projects such as a service robot, and an AI checkout. Use the facial recognition access controls to configure your own smart home, or work on one of the other 16 models. With 20 lessons, ranging from entry to challenge level, leap into the world of AI and start exploring.
Unravel the technicalities of AI and machine learning step by step. Learn about the functions of image recognition, image classification, and object detection via an image training tool. After programming, these models can function as real devices in your home. Perform your own tests and investigations until you understand exactly how all the sensors and mechanical structures function.
In addition to the important hands-on aspect of physical mechanisms, this package also
inspires creativity and programming design skills.
As IoT (Internet of Things), Big Data, Robotics, and AI (Artificial Intelligence) have been changing and leading global supply chains into Industry 4.0, the same technology application, especially AI, will soon change and lead our daily life into Society 5.0.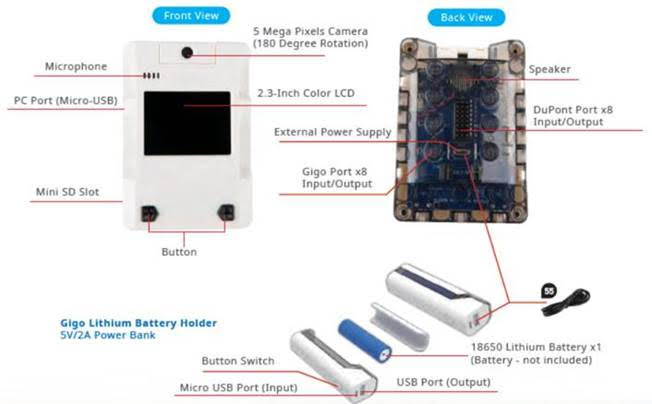 The kit includes an AI Control Box, motors, sensors and functional building blocks that make your projects come alive. The control box has cameras, LCD screen, microphones, speakers and an external power input (female micro USB) to enable convenient play.
Follow the instructional manual, kids can build up to 16 models that are designed for different AI applications. With the Web:AI cloud intelligence platform, kids can use drag-and-drop coding blocks to program the models they just built to perform various AI tasks.