Law of Conservation of mass
Law of Conservation of mass
This kit includes:
2x conical flask 250ml
rubber stopper with 1 hole
rubber stopper with 2 holes
glass funnel 60mm dia
2x paster pipettes
2x glass bulb tubes
glass tube with balloon
Διαδικασία Πειράματος
Use the funnel to insert aprox. 1 spoon baking soda into the balloon.
Pour 100ml vinegar in the conical flask.
Place the rubber stopper with the 2 holes (with the balloon) at the top of the flask and seal it. Be extra careful not to pour the baking soda from the balloon inside the flask.
Use the electronic scale to weight the flask-balloon system. Please note the weight.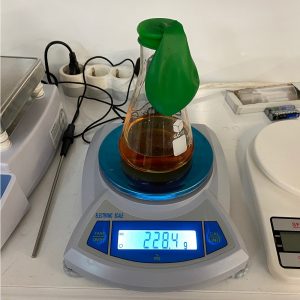 Lift the balloon, dumping the baking soda inside the flask into the vinegar.
A chemical reaction will take place that results in the release of carbon dioxide, which will inflate the balloon.
Observe and note the weight of the flask !!
Experiment 2
Fill both conical flasks with a small amount of ~ 5ml water, using the pasteur pipettes.
In one conical apply the rubber stopper with the balloon and in the second one the other rubber stopper.
Weigh both 2 conical bottles with their caps and record their weight.
Heat the conical flask with the balloon until the balloon starts to inflate (note the heating time) and place it on the scales and observe the changes in weight.
Heat the other conical flask for about the same time as the first one and place it on the scales and observe the changes (?) in the weight.
What is the difference in weight between the first flask and the second one?