Volumetric Flask
Volumetric Flask Boro 3.3
Glassware class A
Available in:
10 ml
50 ml
100 ml
250 ml
500 ml
1000 ml
A volumetric flask (measuring flask or graduated flask) is a piece of laboratory apparatus, a type of laboratory flask, calibrated to contain a precise volume at a certain temperature. Volumetric flasks are used for precise dilutions and preparation of standard solutions. These flasks are usually pear-shaped, with a flat bottom, and made of glass or plastic. The flask's mouth is either furnished with a plastic snap/screw cap or fitted with a joint to accommodate a PTFE or glass stopper. The neck of volumetric flasks is elongated and narrow with an etched ring graduation marking. The marking indicates the volume of liquid contained when filled up to that point. The marking is typically calibrated "to contain" (marked "TC" or "IN") at 20 °C and indicated correspondingly on a label. The flask's label also indicates the nominal volume, tolerance, precision class, relevant manufacturing standard and the manufacturer's logo. Volumetric flasks are of various sizes, containing from 1 milliliter to 20 liters of liquid.
How to prepare a solution
STEP 1: 
A volumetric flask is used to make up a solution of fixed volume very accurately. This volumetric flask measures 500 mL ± 0.2 mL. This is a relative uncertainty of 4 x 10-4 or 400 parts per million.
To make up a solution, first dissolve the solid material completely, in less water than required to fill the flask to the mark.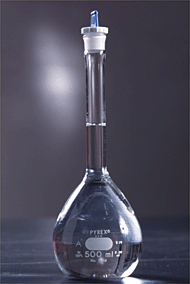 STEP 2:
After the solid is completely dissolved, very carefully fill the flask to the 500 mL mark. Move your eye to the level of the mark on the neck of the flask and line it up so that the circle around the neck looks like a line, not an ellipse. Then add distilled water a drop at a time until the bottom of the meniscus lines up exactly with the mark on the neck of the flask. Take care that no drops of liquid are in the neck of the flask above the mark.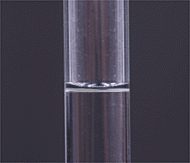 STEP 3:
After the final dilution, remember to mix your solution thoroughly, by inverting the flask and shaking.