Portable Autoclave Sterilizer
Portable Autoclave Sterilizer is a desktop autoclave sterilizer designed for use in hospital, clinic, laboratory, scientific research institutes, etc.
It uses saturated steam to sterilize items quickly and efficiently.
It is mostly suitable for sterilization of surgical, dental instruments, glassware, culture medium and biological dressing, food and goods, etc.
Features:
1. Easy to operate, safe and reliable
2. Self-expanding sealing ring has good sealing performance and can effectively prevent steam leakage
3. Over-temperature and over-pressure automatic protection
4. Immersion electric heating tube, high thermal efficiency, durable stainless steel tube
5. Double groove pressure gauge, double temperature and pressure scale, clear indication, convenient observation and reliable performance
6. Equipped with a water level gauge, if the water level is too low, it will automatically stop heating (Anti-Dry Type)
7. Electric heating or liquefied petroleum gas heating (Dual-Use Type)
8. With self-adjustment function, temperature and time can be adjusted by itself, automatically stop heating and alarm function after sterilization (Timing Control Type)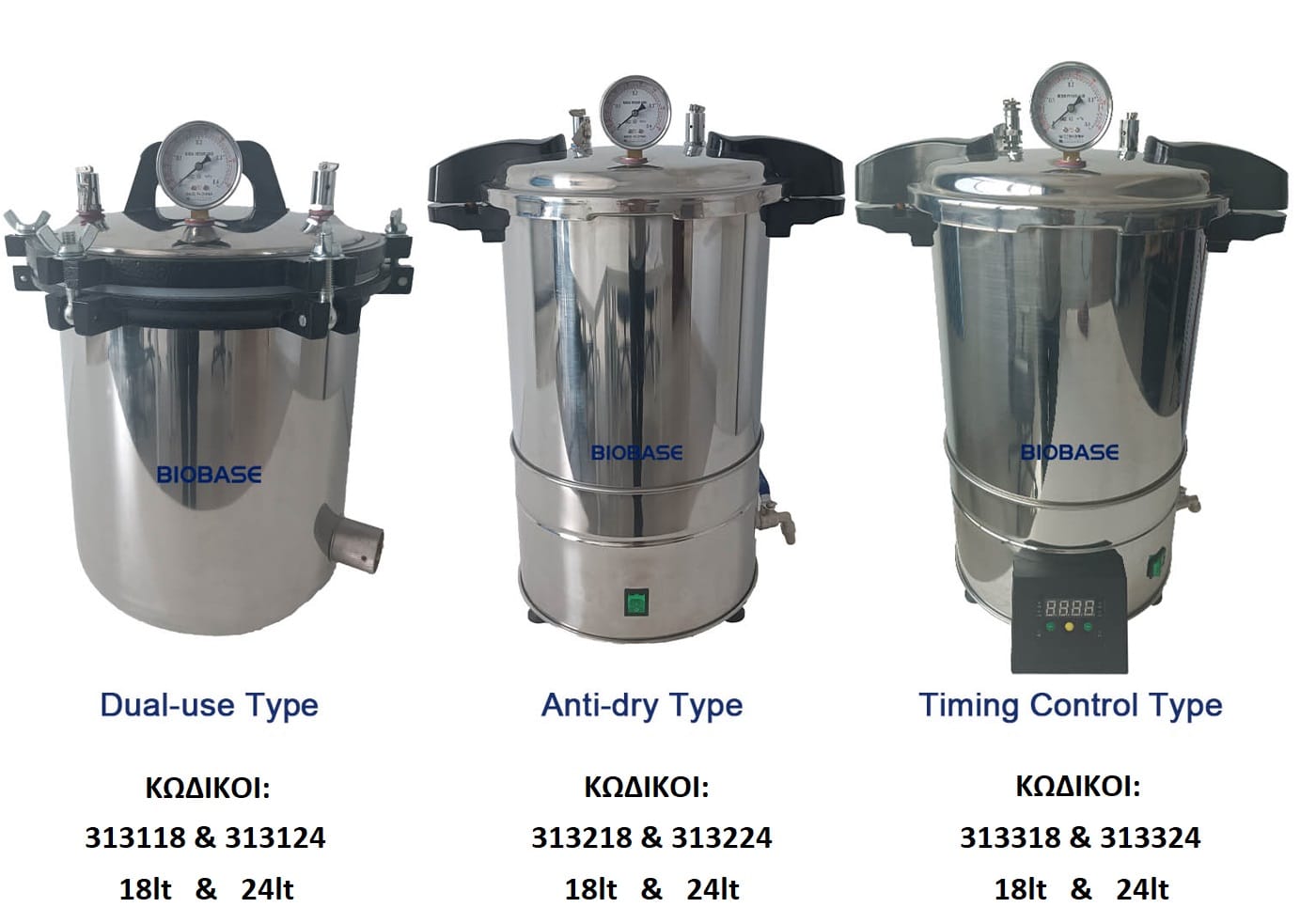 Τεχνικά Χαρακτηριστικά για τα μοντέλα
Models:
Model
313318
313324
313218
313224
313118
313124
Type
Timing control type
Anti-dry type
Dual-use Type
Capacity
18L
24L
18L
24L
18L
24L
Chamber Size(mm)
Φ260×270
Φ260×380
Φ260×270
Φ260×380
Φ280×240
φ280×350
Time Setting
0~99 min
NO
Temperature Setting
126℃
Consumption
2KW
Power Supply
Standard: 220V 50Hz; optional: 110V 60Hz(internal transformer)
Working Pressure
0.142MPa
Packing Size(W*D*H)mm
400*400*670
400*400*770
400*400*670
400*400*770
400*400*430
400*400*530
Gross Weight(kg)
16.5 kg
17.5 kg
16.5 kg
17.5 kg
16 kg
17 kg