3D Printer Ender-3 V2 Neo
3D Printer Ender-3 V2 Neo | Like the original Ender 3, the V2 has a print volume of 220x220x250mm and can also print with PLA, TPU, and PETG.
New updated Ender-3 V2 3D-Printer with improvments like:
Updated mainboard with silent TMC2208 stepper drivers
Craborundum glass platform for better 1st layer adhesion
New screen with updated easy to use interface
Resume printing
Easy filament feed function
XY-Axis tension quick and fast adjustment
But, there are some important differences, namely, the tempered carborundum glass bed, perhaps the most notable of all the new features. This is a welcome change from the detachable magnetic heated bed of the Ender 3 Pro as these beds were prone to accumulating filament residue over time.
The glass print bed is mounted on the aluminum plate. Said to improve overall material adhesion, this flatter surface should allow you to remove prints much more easily.
The V2 also has a fancy HD color screen instead of the old LCD character display. As with the older style displays, the color screen is still navigated using a click wheel.
It also boasts an upgraded, 32-bit, self-developed, "silent" motherboard. Creality says it prints at 50 decibels, which is comparable to a conversation at home. And it has a brand name MeanWell power supply to heat up quickly and let users choose between power voltage of 115V or 230V.
Some other upgrades and tweaks are a toolbox embedded in the base of the printer, where you can store things like nozzles, needles, pliers, and other tools, the capability to resume a print after a power outage, an XY-axis tensioner and manual filament feeding.
Lastly, Creality added in two adjustable tensioners on the X- and Y-axis to try and prolong the belts' lifespans, in addition to a rotary knob to the Bowden extruder to manually load filament if desired.
DIY assembly
Nothing is more fulfilling than successfully assembling your own DIY 3D printer kit yourself. At the same time you can familiarize yourself with the inner workings of your 3D printer. This will help you develop a deeper understanding of the principles of 3D printing.
NOTES

THE PACKAGE INCLUDES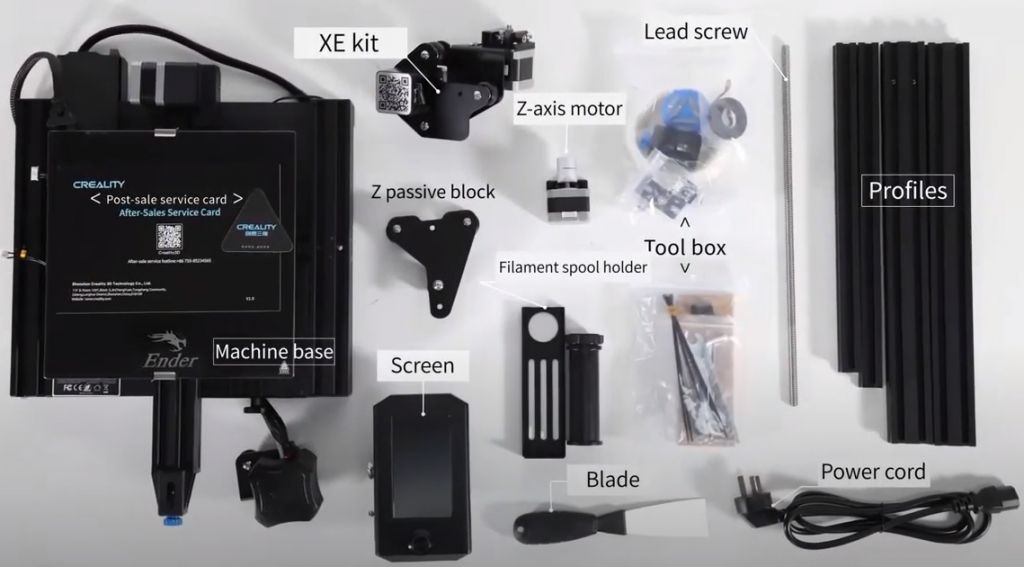 SPECIFICATIONS
Printing Technology:
FFF (Fused Filament Fabrication)
Filament Diameter:
1.75
mm
Max. Print Speed:
180mm/sec
Extruder Quantity:
Single
Heated Build Plate (Heated Bed):
Yes
ABS (small parts)
FLEX
PET
PLA
Working Mode
:
Offline (SD Card/USB Stick)
Online (USB)

SPECIFICATIONS
Print Specifications
Nozzle diameter: 0.4mm can be in 0.2, 0.3mm
Max Traveling Speed: 180mm/s
Software
Slicer: Cura (Works with Simplify3D not included)
Operating System: Windows/Mac/Linux
Mechanical
Chassis: Imported V-Slot Aluminum Bearings
Electrical
Input: AC 100-265V 50-60Hz
Output: DC 24V 15A 360W
Plug: EU Power Plug
 475x470x620mm
Weight: 7.8kg