DESCRIPTION
Don't send 5 V signals to your ESP8266. The use of an ESP8266 with Arduino requires logic level translation of the UART signal, as provided by this easy 3.3 V – 5 V adapter. It makes the ESP-01 ESP8266 WiFi module the easiest WiFi transceiver for your Arduino (5 V).
Adapter module for ESP-01 Wi-Fi module
3.3 V voltage regulator circuit & onboard level conversion for easy use of 5 V microcontroller with ESP-01 Wi-Fi module
Compatible with UNO R3
4.5 – 5.5 V (on-board 3.3 V LDO Regulator)
Interface logic voltage: 3.3 V / 5 V compatible (on-board level shift)
Current: 0 – 240 mA
NOTES
Package will include only one ESP-01 Adapter board without an ESP-01 module.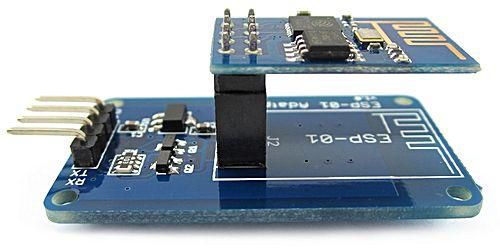 SPECIFICATIONS
Working voltage: 4.5-5.5V
Working current: 240mA
Dimensions: 47.5x24x11.5mm
Connection Diagram: