micro:Maqueen Mechanic – Beetle
Use this kit to change your Maqueen 4.0 and later and Maqueen Plus into a Mechanic Beetle! The Maqueen Mechanic-Beetle kit includes a metal servo, mechanical parts, screws, etc. Just a simple installation, your Maqueen car (Lite or Plus) is ready to go.
This play-and-learn kit comes with rich mechanical knowledge, which could allow students to benefit a lot from hands-on practices! Come and find more fun and interesting ways to play with Maqueen in this kit.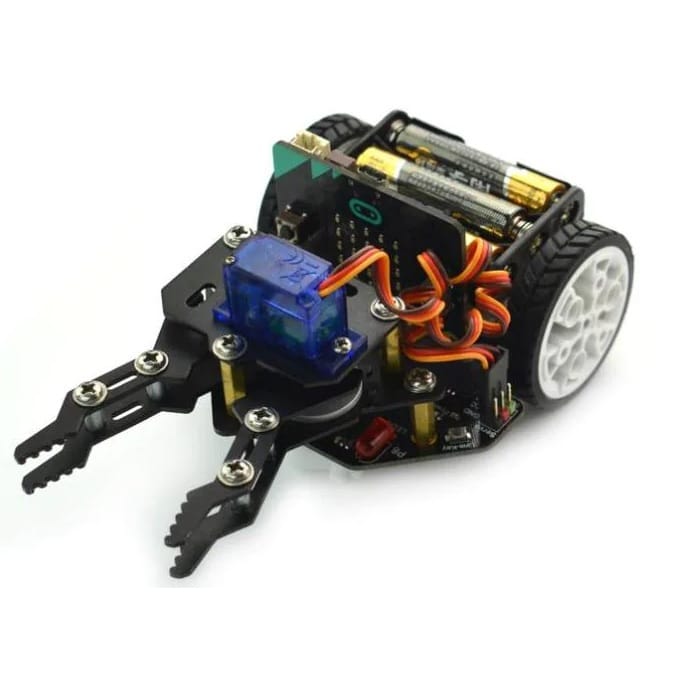 Features
Support for Maqueen 4.0 and later
Support for Maqueen Plus
Metal gear servo, reliable quality
Metal servo connection plate for easy installation
0 ~ 180 deg control angle
Aluminum alloy material, sandblasting oxidation process, excellent quality
Specification
Servo Weight: 12g ± 1g
Control Angle: 0 ~ 180 deg
Metal gear servo, metal servo connection plate
Control Ports: S1, S2, S3 (Maqueen Plus)
Standby Current: <45mA
Shipping List
9g Metal Gear Servo ×1
Metal Gripper Upper Arm ×2
Metal Gripper Driven Forearm ×1
Metal Gripper Servo Forearm ×1
Metal Gripper Panel ×1
Metal Gripper Bottom Panel ×1
M3*15mm Copper Pillar ×2
M3*17mm Copper Pillar ×3
M2.5*5mm Screws ×5
M3*5mm Screws ×20