Gravity: Analog pH Sensor/Meter Pro Kit for Arduino
Gravity: Analog pH Sensor/Meter Pro Kit for Arduino is a professional Arduino pH Sensor Meter Kit with an industrial electrode. It has built-in simple, convenient, practical connection and long life (up to 1 year), which makes it very suitable for long term online monitoring. It has an LED which works as the Power Indicator, a BNC connector, and a PH2.0 sensor interface. To use it, just connect the pH sensor with the BND connector, then plug the PH2.0 interface into the analog input port of any Arduino controller.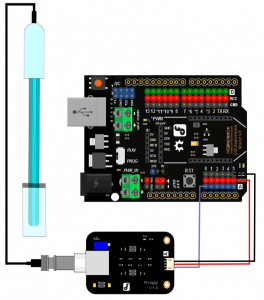 Unit power: 5.00V
Size: 43mmx32mm (1.70 "x1.26")
Measuring range: 0-14PH
Measuring temperature: 0-60 ℃
Accuracy: ± 0.1pH (25 ℃)
Response time:. 1 minute
Industrial pH electrode with BNC connector
PH2.0 interface (3 feet)
Power indicator LED
pH and Living Organisms
If the pH of the water is too high or too low, the aquatic organisms living in it will die. PH can also affect the solubility and toxicity of chemicals and heavy metals in water. The majority of aquatic creatures prefer a pH range of 6.5-9.0. As pH levels move away from this range (up or down) animal systems can be affected and incubation and survival rates reduced. The more sensitive a species is, the more it is affected by changes in pH. In addition to the biological effects, extreme pH levels usually increase the solubility of elements and compounds, making toxic chemicals more "mobile" and increasing the risk of absorption by aquatic organisms.
pH and Aquatic Species
Aquatic species are not the only ones affected by pH. While people have a higher tolerance for pH levels (drinking levels range from 4-11 with minimal gastrointestinal irritation), there are still concerns. PH values ​​above 11 can cause skin and eye irritation, as can pH below 4. A pH value below 2.5 will cause irreversible damage to the skin and organs. Lower pH levels increase the risk of mobilizing toxic metals that can be absorbed, even by humans, and levels above 8.0 cannot be effectively disinfected with chlorine, causing other indirect hazards. In addition, pH levels other than 6.5-9.5 can damage and corrode pipes and other systems, further increasing the toxicity of heavy metals.
There are many factors that can affect the pH of water, natural and artificial. Most natural changes occur due to interactions with the environment (especially carbonate forms) and other materials. The pH can also fluctuate with sedimentation (especially acid rain) and wastewater or mining waste. In addition, CO2 concentrations can affect pH levels.
Carbon dioxide
Carbon dioxide is the most common cause of acidity in water. Photosynthesis, respiration and decomposition all contribute to pH fluctuations due to their effects on CO2 levels.
Carbonaceous materials and limestone are two elements that can regulate pH changes in water. Calcium carbonate (CaCO3) and other bicarbonates can be combined with both hydrogen and hydroxyl ions to neutralize the pH. When carbonate minerals are present in the soil, the regulating capacity (alkalinity) of the water increases, keeping the pH of the water close to neutral even when acids or bases are added. Extra carbonate materials in addition to this can make neutral water slightly basic.
Anthropogenic causes
Anthropogenic causes of pH fluctuations are usually related to pollution. Acid rain is one of the best known examples of human influence on water pH. Any form of precipitation with a pH level less than 5.0 is known as acid rain. This precipitation results from the reaction of water with nitrogen oxides, sulfur oxides and other acidic compounds, lowering its already slightly acidic pH. These emissions usually come from mining and smelting or burning fossil fuels (coal and cars). Extremely high CO2 levels can also further reduce the pH of rain.
Harmful effects are felt when the pH of the water falls below 5.0 or rises above 9.6. The adverse effects due to acidification are more pronounced in saltwater fish due to their adaptation to higher pH. When the pH is below optimal levels, fish become susceptible to fungal infections and other bodily harm. As the pH of the water decreases, the solubility of calcium carbonate decreases, preventing the growth of the shell in aquatic organisms. In general, fish breeding is affected at pH levels below 5.0 and many species will leave the area. Fish begin to die when the pH drops below 4.0.
Harmfull effects of low pH levels
Low pH levels can encourage the solubility of heavy metals. As the level of hydrogen ions increases, metal cations such as aluminum, lead, copper and cadmium are released into the water instead of being absorbed into the precipitate. As heavy metal concentrations increase, so does their toxicity. Aluminum can limit growth and reproduction while increasing mortality at concentrations as low as 0.1-0.3 mg / L. In addition, mobilized metals can be taken up by organisms during respiration, causing physiological damage. This is especially harmful for species such as iridescent trout.