WRO Hellas organizes two separate competitions for all educational levels: the Panhellenic Educational Robotics Competition (October – March) and the Educational Robotics Olympiad – WRO ™ (March – July). As a vehicle of competitions, we seek to introduce STEM methodology into education, by introducing to the Greek educational community the core of STEM, educational robotics. Our competitions are used as an incentive for the creation and operation of an integrated program, with the aim of increasing both the school community's interest in educational robotics and the wider modernization of Greek schools through their provision of educational robotics equipment.
To date, our supporters and we have managed to supply more than 800 schools with equipment, as well as train more than 1600 A / B teachers through online training seminars (online and offline).
The WRO Hellas Educational Robotics Competitions for the 2017-2018 school year are sponsored by SA by the President of the Republic, Mr. Prokopios Pavlopoulou.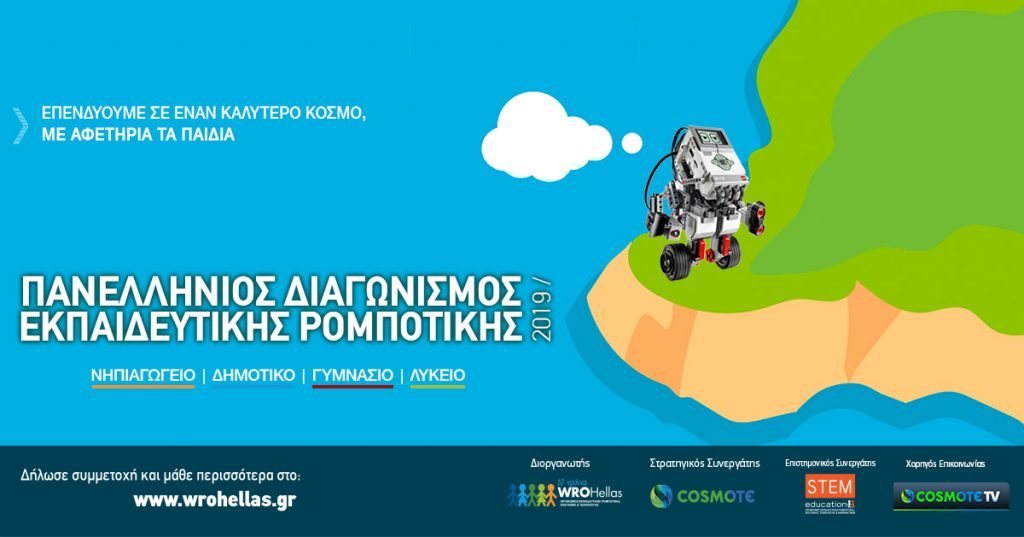 Announcing the 2019 Panhellenic Robotics Competition, which is being organized for the 5th consecutive year by WRO Hellas with COSMOTE Strategic Partner. The competition is aimed at elementary, high school and high school students, and this year for the first time this year introduces a new pilot category for kindergarten children.
The competition, which attracts more than 3,000 students from all over Greece, is a thrilling 5-month journey for the country's educational community, from the announcement of the topics in October to the final in February.
The Panhellenic Competition is aimed at students of all grades. Different educational goals are set for each level, and therefore different competing categories and competing criteria.
<p style="padding-left: 60px;"><span style="color: #ffffff;"><a href="https://www.why.gr/wp-content/uploads/2017/11/stem-wro-card-01.jpg"><img class="size-full wp-image-39419 aligncenter" src="https://www.why.gr/wp-content/uploads/2017/11/stem-wro-card-01.jpg" alt="" width="271″ height="186″ /></a></span></p>
<p style="padding-left: 60px;"><span style="color: #ffffff;">STEM Education in collaboration with WRO Hellas created the STEM Club to offer students who participate in STEM education programs and WRO Hellas robotics competitions a series of privileges. Eligible students will receive membership cards in order to enjoy the benefits provided by partner businesses.</span></p>